Maximum Excellence™
Potentiated Magnesium (pMg) and all pMg-based nutritional supplement products are produced in a current Good Manufacturing Practices (cGMP) certified, FDA inspected, "A" rated dietary supplement production and packaging facility.  Each lot is provided with a production Certificate of Analysis.  In addition, each production run is tested by an independent outside laboratory for industry standards compliance, including: 1. Formulation spec compliance; 2. Purity compliance (meets or exceeds strict California Proposition 65 purity and toxicity standards); 3. Meets or exceeds labeled potency compliance standards; 4. Meets or exceeds expiration date compliance standards; 5. Complies with pH balance standard; and, 6. Complies with tablet disintegration time standard.
The expiration date that is on dietary supplements are mandated by the FDA as to duration for specific nutrients, with the water-soluble nutrients (such as vitamin C) having a relatively short expiration date.  However, the expiration date on the pMg bottle is a little misleading because of the following: 1. Tablets are more stable than capsules; 2. The mineral element magnesium does not degrade with time; 3. The Compound Complex forms a natural bond between the vitamin C and the magnesium, which in effect provides a natural protection for the vitamin C; and, 4. pMg has been tested by an independent outside lab and has been shown to have retained full labeled potency in excess of six (6) years, while in-house testing has demonstrated full labeled potency in excess of ten (10) years.
All Maxcelint Laboratories Inc. nutritional supplement products are made to the highest quality standards, and are produced, tested, and laboratory certified in the U.S.A.  The Certification Seal doesn't go on the bottle until all certification standards have been met.
Maximum Excellence in Natural Nutritional Supplements!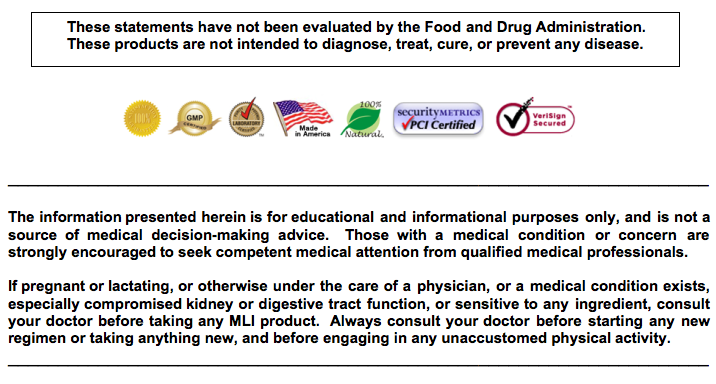 Terms & Conditions |     Privacy Policy |    Disclaimer